Have Questions About Insulation? R-Pro Has Answers!
It may be easy to focus on new countertops and shiny appliances, but it's important to understand the building envelope. Keeping a tightly sealed, well-insulated space will enhance your home's value and comfort level. To help you better understand insulation and weatherization, we've provided answers to some common questions below. If you have more questions, please contact us.
– Insulate your home to meet energy efficiency guidelines.
– Set your thermostat comfortably low in the winter and comfortably high in the summer. Install a programmable thermostat that is compatible with your heating and cooling system.
– Use compact fluorescent light bulbs.
– Air dry dishes instead of using your dishwasher's drying cycle.
– Turn off your computer and monitor when not in use.
– Plug home electronics, such as TVs and DVD players, into power strips; turn the power strips off when the equipment is not in use (TVs and DVDs in standby mode still use several watts of power).
– Lower the thermostat on your hot water heater to 120
– Take short showers instead of baths.
– Wash only full loads of dishes and clothes.
– Drive sensibly. Aggressive driving (speeding, rapid acceleration and braking) wastes gasoline.
– Look for the ENERGY STAR
The "R" in R-value stands for resistance to heat flow. The higher the R-value, the higher the level of resistance and the greater the insulating power. R-value requirements vary depending on climate and building type.
If you're experiencing drafty rooms, cold floors, inconsistent temperatures and/or high energy bills, a home energy audit can help pinpoint points of concern in your home. It is a simple, affordable way to have a full energy assessment and recommendations to improve the comfort level and energy efficiency in your home.
Think doors and windows are at the top of your heat's escape plan? Think again. Walls, ceilings, floors and ducts can account for 90% of heat loss if not properly insulated.

The amount of insulation needed varies depending on location, building type and materials. We will review your specific project to make a recommendation.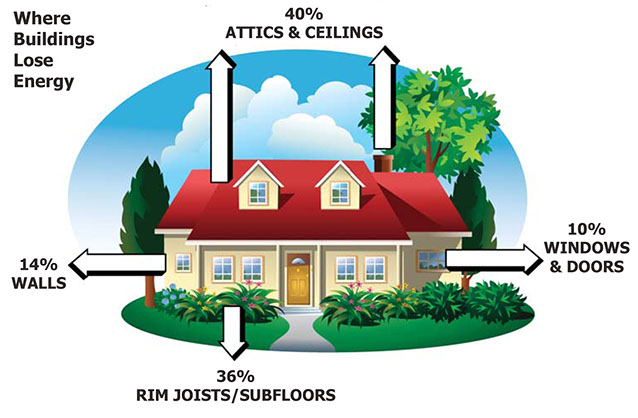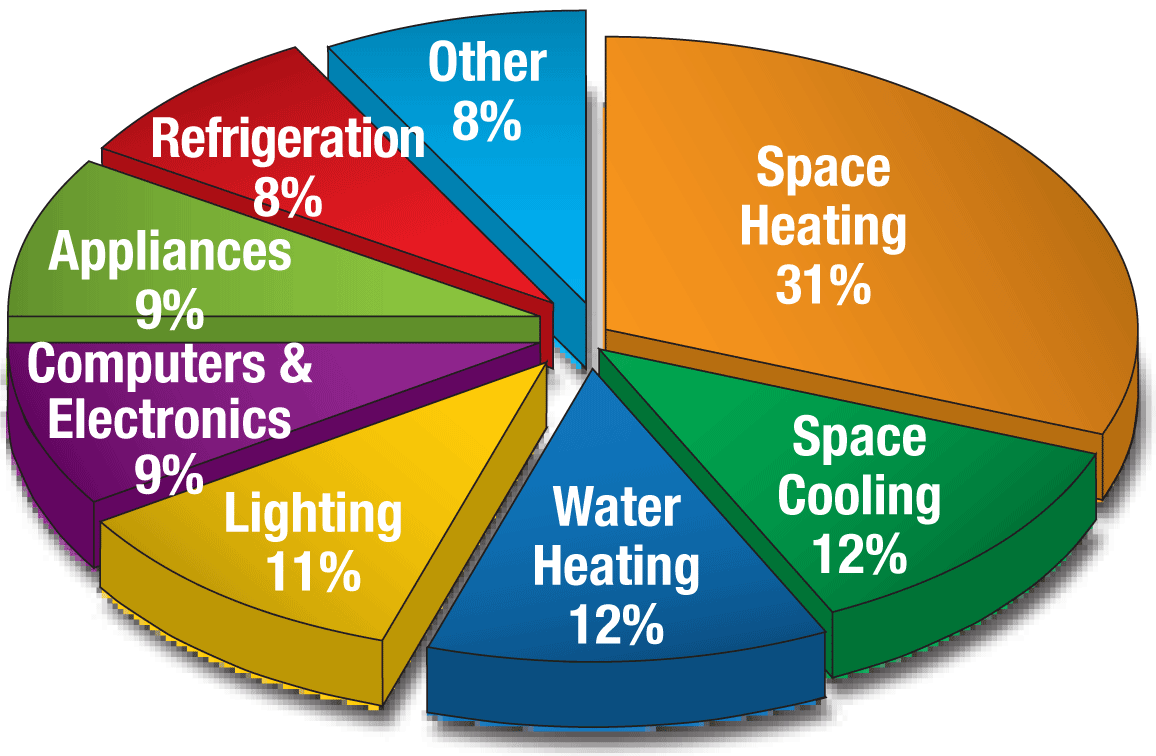 Airborne noises such as conversation, running appliances, electronic devices and household equipment carry and echo through walls, ceilings and floors. Good insulation, specifically fiberglass, has the ability to drastically reduce such atmospheric interference, leaving rooms much quieter. According to Energystar.gov, insulating your home can reduce the noise from outside your house as well as making it harder for pollen, dust and insects into your home, better humidity control and lowering the chance for ice dams on the roof/eves in snowy climates. In addition to keeping the noise levels low, this will also improve the overall comfort of your home. See our Sound Control page for more information.
Every insulation job has its own unique set of requirements, and every homeowner has their own budget guidelines. To make an informed decision, it's extremely important to talk to a knowledgeable insulation expert so you can learn exactly what options are best for you. Call R-Pro for a free, no-obligation insulation consultation.
R-Pro is a Columbus insulation contractor dedicated to your home comfort. We not only work to meet your expectations; we strive to exceed them.
GIVE US A CALL FOR A FREE ESTIMATE OR TO SCHEDULE AN ENERGY AUDIT TODAY.
Ready to insulate? Contact R-Pro today!